True Love Eros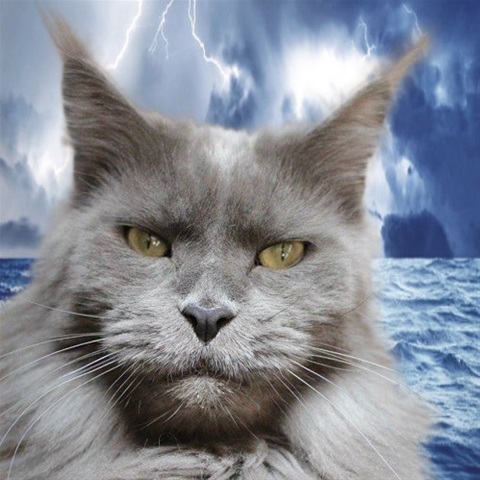 Jotilie's True Love Eros
Born 20-07-2013 in the Netherlands
Mother: Xara van Coonlight Cove
Father: Cham v.d. Sabina Henricapolder
Blue Smoke
Pedigree True Love Eros
"Eros is the third (of four) greek words for love. It's passionate, it's rapturous it's euphoric, it's what the greatest songs have been sung about and what the greatest poems have been written about."
Eros is our first real Maine, we where so in love with our Wolf that we learn a lot about the breed Maine Coon and search a longer time for a friend for him. When I saw on a site the pictures of Eros it was direct True Love! My dream was a blue maine coon, so I wrote a long post about myself and my interest in Eros. The breeder message us that she thought about it to keep him for herself so I have a few weeks exciting awaited and when he was 10 weeks finally came the message that Eros can come live with us. The day after this good news we immediately plan a visit to admire him and cuddle with him and three weeks later he was home. I never forget the first day that Eros was home, from the first minute home he was so surious and happy. Direct he walking proud with his tail high in the air and without fear he explored the whole house.
Eros is a big sweetheart and I call him Rossie Ramazzotti or Loslappie and he listens to this all because as he hears his name he comes immediately. Eros is a big sweetheart, when we talk to him he always talks back and he likes to lie on our lap, he loves to cuddle. Eros grew up with dogs at the breeder, so he is also big friends with our dogs from the beginning, he likes to sleep with them which is always very nice to see. I always admire Eros for his sweet character, he is also very patient with kittens and if he finds it too busy he always finds a quiet place to snooze.
A funny thing about Eros is his vampire look, His corner teeth always stick out slightly below his upper lip with their tips, this always makes me smile when I see it and it is definitely his personal Rossie characteristic.
Eros was very small when he was born and I have to admit that he wasn't really handsome as a baby hahaha, but he has developed into a beautiful big boy and he still makes me fall in love when I look at him. Eros loves to relaxing in the sun, so summer is definitely his favorite season. He likes chunks more than wet food, but he direct wake up for a freshly cooked fish. His best friends are Wolf and Aruba and his favorite place to relax is the basket on the scratching post in the bedroom.