Inanna Aruba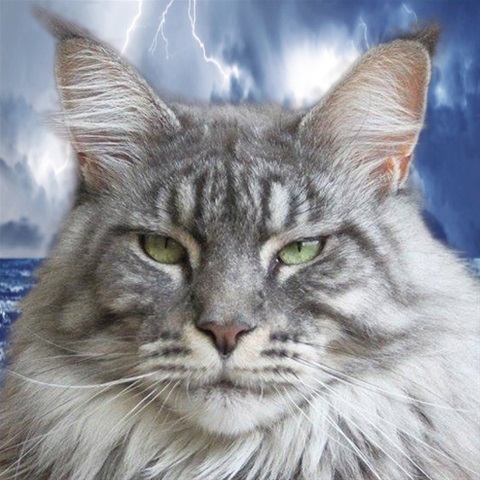 Garden of Coons Aruba
Born 02-10-2013 in Belgium
Mother: DutchSweetloves Tigra
Father: Fulongcoons Hurricane
Blue Silver Mackerel Tabby
Pedigree Inanna Aruba
Inanna Aruba, the sweet mother in Casa di Coontastic, every new kitten that comes here home expect she as her child she cared for them, washed them and give them a lot of love. Every time as we were visiting the breeder for our visits to Savage Hunter and Mystic Crescent I enjoyed the wonderful sweet character of Aruba her mother. The breeder had kept Aruba actually for her own for breed with her in the future. But when Aruba was 8 months the breeder decided that she not hold her and search a new home for her. When the breeder said that she was looking for a good home for Aruba and I knew that she has exactly the same character as her mother, of course it was clear that Aruba can come live with us! Aruba is very sweet, for the cats, the dogs and for us, she is calm and gentle but will always be everywhere where we are. She would prefer all day 24/7 cuddled and that let she know by lying on my laptop when I'm busy, pushing against my hand with her head even if I have a glass with drink in my hand. Aruba her biggest love is Siddhi of Love , this two sweethearts let see that real love between animals can also! From the first day when Siddhi was in Casa di Coontastic she takes care of him our that he was her child and as you see Siddhi than you see also Aruba. I call her always Loebieloe.
When Aruba was 1.5 years we saw that she had a strange way of walking, I don't trust that so I go with her to the vet. The vet observed high degree patele luxation in both knees, but I still felt there was more, I decided to let make X-ray of her hips and knees. when that was done, the specialist came with bad news, Aruba her both hips and knees are not good and 1 hip was so bad (epiphysiolysis) that it should be operated. after the operation, we have the bone, blood for DNA and a copy of her pedigree sent to specialists who research what the problem is by Aruba. After extensive research her hip and knee problems are genetic disorders, we have the results immediately let it know to the breeder because the father and mother of Aruba are in the breeding program of the breeder. After surgery Aruba has recovered well, her walk is still different but she does and can do everything again, running up the stairs and down, climbs and jumps and has no more pain. We should note that her other hip should also be operated in the future.
Aruba, the girl who has been through a lot but she always stay sweet to us and the Coontastic Members!
Family:
Aruba her grandfather is also the grandfather of Savage Hunter & Mystic Crescent