D'Amore Federico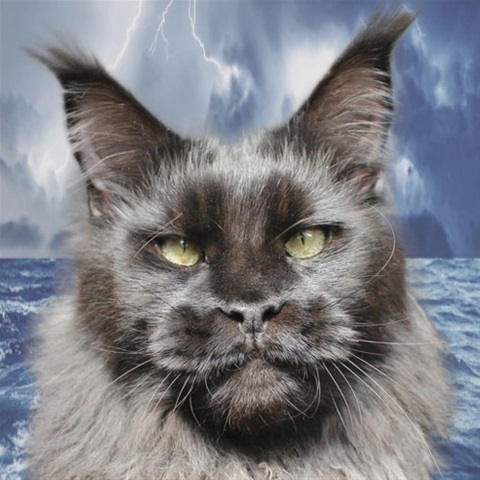 Big-Hannibals D'Amore Federico
Born 09-06-2016 in Germany
Mother: No Vella Airish Coons
Father: Big-Hannibal Blue Hunter
Black Solid
Pedigree D'Amore Federico
"Black is the purrfect color, the secret to happiness is simple, be loved by a fabulous black cat"
I was hoped for the future on the birth of a Black Smoke boy. But that birth was faster than I thought and when I was look at the pictures to make a choice this boy was my favorite. Not smoke but black solid but as my feeling is good than I follow my feeling and not a collor! I give him the name Federico because "Federico Garcia Lorca" is a famous poetry writer, his poems have a beautiful meaning in my life and that's why this name has a loving sense for me. The name Federico means "peaceful, powerful and ruler". We call him Rico and he is a big boy with a wonderful look, I love his looks but also his character is wonderful. He love attention and cuddles, his meow is soft but as he is happy to see me than he meow louder. I love his wonderful soft coat, it feel as satin and his coat on his belly is curly. He looks as a miracleball because some seasons he let see a beautiful smoke collar and the other season it is gone and have he a black collar. Rico have a beautiful strong and big muzzle, I love his ears with full lynxtips, he have a long but strong body. His eyes looks as gold outside in the sun what enchanted me every time as I see it. I love his soft and purring character, he is friends with all the sweethearts, he love kittens, when we have new kitten in the group he is so happy and wash them all the time, that is so very cute to see. I love the cuddly moments as he is close to me in bed, he radiates so much peace and softness and in a magical way he always lets me relax when he cuddles with me.
In 2018 our sweetheart Rico had a operation on his hip (epiphysiolysis). After the operation there appeared a damage to his nerves and was his behind leg paralyzed. It was a very hard and sad time! Rico lost a lot of weight in this time and it was so sad to see how brave he walks on 3 legs. The sound of his nails scraping the floor when he walked, that I never forget, it had give me so much tears in my eyes! We immediately started with Vitamin injections and supplements, we also fed him as extra twice a day cooked fish. I had so much admiration for him how he deal with his paralysis, the first period he was very sad and was not in the mood to do anything, but after that period he started to do more and more and became cheerful again. After months a miracle happened, he began to use his behind leg again! And now he do all back what he did before the operation, he runs and jumps and is not longer paralysed! We are so so happy with this wonderful miracle and since that moment he get more and more back his good weight.
Family:
Rico his mother is also the mother of Enchanting Angel and the grandmother of Laguna Surprise, Samuray Merlin, Special One Sinatra, Purr'Fect Hero, Flash Gordon, Sweet Vinzent, Sweet Vancouver & Simple Obsession
Rico his father is also the father of Enchanting Angel, Midnight Jewel & Magical Surprise
Rico his grandfather is the father of Siddhi of Love, Mr. Bojangles, Magic Thunder, Chapman Mr. Dreamy, Countdown Pablo & Samuray Merlin and the grandfather of Flash Gordon, Sweet Vinzent, Sweet Vancouver & Precious Firebird