Can-Can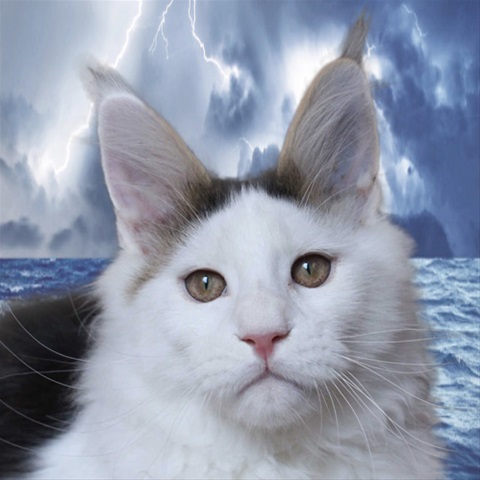 Can-Can BillAndCoo
Born 21-06-2021 in Czech
Mother: Mrs Columbo BillAndCoo
Father: Yasan BillAndCoo
Black Ticked Tabby Bicolour
Pedigree Can-Can
At the beginning of August 2021 I traveled to our friend and breeder in the Czech Republic to pick up our sweetheart Winnipeg. I loved seeing all the furry sweethearts again, who feel like family to me and it was a double joy to have little kittens around and to be able to cuddle and spend time with them. And there was Can-Can aka Kaňour! What a sweetheart he is a charmer and clown! He immediately settled on my lap and looked at me with his wonderful sweet eyes. Maybe a coincidence, I thought! But after a night's sleep he was right back with me when I came downstairs and had a morning cuddle session with the kittens of this litter. He enchanted me in a loving and funny way. He has family lines from our Don Corleone (his mother is the grandmother of Can-Can) and our PandeMia (same father). So no wonder he has such an open, sweet and cheerful character. And our charmer managed to win my heart and so he will come to live with us. I am so happy and extremely grateful that he has come into our lives and I am counting down the days full of love until he is home!
Since the first moment that Kanour was home with us he did or that he was always with us. He is such a big sweetheart, always cheerful, always on an adventure but can also relax on his back in a deep sleep. He is friends with everyone but his best friend is Winnipeg, from the start they play together, run after each other and have so much fun with each other. Kanour is our sweet clown and in this he resembles his big uncle Don Corleone, he is always on an adventure and also a cheerful clown. I love my sweet teddy bear so much, he always cheerfully comes to us to cuddle, then he enjoys and his beautiful full tail is high in the air. Kanour always gives this house a loving and cheerful atmosphere and he respects everyone, which means that he is also very much loved by his big furry friends.

I love him to the moon and back and I am so very happy that he is with us and that we can enjoy this happy boy every day again.
Family:
Kanour his father is also the father of PandeMia
Kanour his mother is the full sister of Miracle of Love his grandfather
Kanour his grandfather is the father of Black Joe and the grandfather of Princess Omnia and Winnipeg
Kanour his other grandfather is the father of Happy Face, Happy Valentine and Happy Easter
Kanour his grandmother is the mother of Don Corleone
Kanour his other grandmother is the mother of No Fear and Yamaha
Kanour his great grandmother is the mother of Alexandra Mary