Jon Snow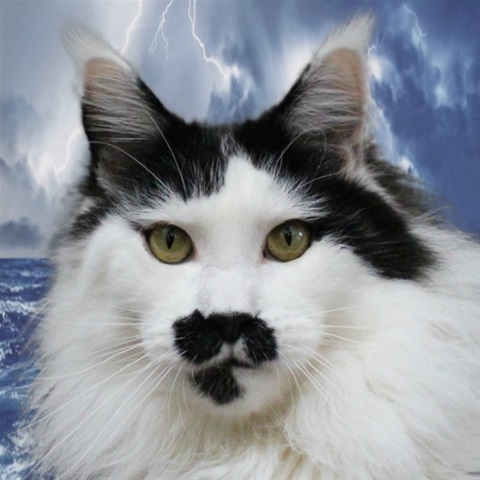 Sivkjær's Jon Snow
Born 02-07-2017 in Denmark
Mother: Sivkjær's Love Song
Father: Red Line's Octavian
Black Solid Bicolour
Pedigree Jon Snow
"A joyful face is always a beautiful face and when the mind is pure, joy follows like a shadow that never leaves."
Impossible to not fall in love as you look to this funny smiling boy! Jon Snow is the little nephew of our beautiful sweetheart King of my Heart and he share also some lines the same as our Angel Di'Gio. I saw his pictures on the site of the breeder and Jon Snow jumps direct in my heart. I never forget the first moment I met him. We had been in the car for 10 hours to pick him up in Denmark and had a lot of setback along the way so we couldn't get come to the breeder's house because of problems at the border. I was so sad and call the breeder and she came to the border by car to meet us there with Jon Snow. The moment I opened the car door of the breeder her car, Jon Snow looked me in the eyes and meows loudly to me or he wanted to say to me "Mommy finally we're together"! I cried with happiness and was so happy that he was finally with me! From the first minute at home he is so a relaxed and happy boy, he love all the cats and the dogs and his big uncle King is his best friend from the first minute that he was with us. This wonderful boy has so much love and happiness what he show us every day, he give me always a smile on my face and I love the purring sounds that he makes a whole day long. He means extra to me because he has given me a lot of comfort. When he was home the next morning our sweetheart Pablo passed away of an acute heart attack. That morning I had made a video of Jon Snow in the playroom, there he was playing and Pablo was enjoying the view on the trapeze. Pablo was always very happy with kittens and he enjoyed Snow's presence. When I made the video I could never have realized that 2 hours later Pablo would no longer be there. It was such a difficult period, the joy that Snow was finally with us changed into a lot of sadness because we had lost Pablo. Snow has helped me through this enormous sad period, it was he for which I found distraction, a reason to hold me up and move my attention because Snow also deserved a positive and loving start by us. It was he who gave me a smile when the tears were in my eyes, because he is such a sweet cheerful clown. And this makes Snow for me double special, he was my Angel is a very hard and sad time together with all our other sweethearts. Snow is a sweetheart for everyone at Casa di Coontastic, he always makes friends quickly when kittens come to us and does his best in a cheerful way to give them confidence and pleasure. Sometimes he can be sweet naughty, so as that he always gnawed at all the doorknobs of the kitchen cupboards when he was little. Snow love it to be in the garden, certainly in the summer, then he enjoys shining in the sun's rays with his beautiful coat. Snow is a foot fetishist haha! If you are not wearing socks then Snow is right with you and licks your toes, I am also often woken up by him because he is licking my nose. When Snow see me and I talking to him than he talking always back with his sweet special sound and he love it as I cuddle him, he comes also every night on bed to say me a good night. I love my sweet boy, very very much!
18-08-2019, it was a beautiful sunny day in the garden and all our sweethearts enjoy this sunny happy day, so also our sweet boy Jon Snow. But this ended very sad early in the evening, Snow was happy play jumped and run as he always does and suddenly he screamed in pain and hold his left hind leg up. I saw direct that is was wrong! My feeling say that it was his hip (epiphysiolysis) so as we have had in the past with our Hunter, Aruba and Rico. Through this experience I immediately saw that it was wrong with my Jon Snow, so we call our vet and we went straight to the clinic. We made X-rays and that confirmed my feeling, hip head was broken. Normally you don't see this without trauma from an accident, but by epiphysiolysis the development of the hip head is not good, it creating a weak part in the hip head so that eventually the hip head breaks off. This usually happens between the ages of 1,5 to 2 years and indeed our 4 sweethearts where all around that age when it happened. Snow get a operation on his hip and he was recovered from it on a good way. But on 05-10-2019 I saw that it was again not good with our sweet boy, he was sad lying in the playroom and I saw direct that it was wrong and that he was in pain. So we bring him direct to our vet and make a X-Ray and indeed it was not good, now it was his other hip what let see the same problem with epiphysiolysis and so my poor boy get also on that hip a operation. Two radical operations on two hip heads, it was exciting how this would go during the recovery because his other hip was not yet very strong after the operation. But our brave boy surprised us, he did so well and despite the fact that walking was not very easy, he managed to move himself well and even went up and down the stairs to the playroom. The bond between me and Snow has become even stronger during this period and he has become even more affectionate. He recovered very well from his two operations, he lost a lot of weight during this period, but this also worked out well and he has a good weight again. He does everything again as he did for the problems with his hip, jumping, running and he also easily goes back into the high crab posts. I am proud on our special clown and I am so happy that he is with us.
Family:
Snow his father is the great-grandfather of Angel Di'Gio
Snow his grandmother is also the grandmother of King of my Heart, Lion King Leonido, Prince Amaro & Prince Faro
Snow his grandfather is also the grandfather of King of my Heart, Lion King Leonido, Prince Amaro & Prince Faro
Snow his great-great grandfather is the great-grandfather of Don Juan Samos & Dream like Madonna