Chapman Mr. Dreamy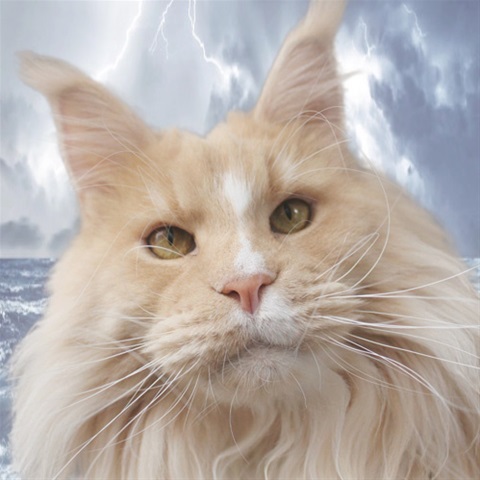 Big-Hannibals Chapman
Born 02-05-2015 in Germany
Mother: Big-Hannibal Honey Pie
Father: Timaracoon Di Caprio
Cream Silver Mackerel Tabby White
Pedigree Chapman Mr. Dreamy
"Like stardust glistening on fairies wings, wonderful dreams are the reason for magical things"
What can I say about this sweetheart, he is amazing!!! A big soft cuddly bear. He is always cheerful and every minute of the day around me. He makes sweet sounds and responds immediately when I call his name. I love this boy very very much, he sleep always with me unther the blanket and he is the best in cuddle. Very soft in his character and best friends with all the other coons. Every morning as I make my coffee he is with me and say me good morning with his sweet look. And my lap is only for him, that is what he think every evening when I am on the sofa relaxing haha. I am so happy that we makes the choice to reserved him together with his brother Countdown Pablo. After the death of Pablo it was as if he felt that I missed his brother so much and he suddenly started doing things that his brother always did, this was very special to see. After Pablo's death, Dreamy did not want to say goodbye to him, normally he come immediately when I call his name, but this time he stayed away. But he have give me a lot of comfort and his cuddles are heartwarming! I comfort myself with the idea that a part of Pablo lives in Dreamy, that we can enjoy him every day and that he warms my heart when he is again on my lap or close to me in bed for the best cuddles ever makes that I know and feel that we are blessed with him in our life!
Dreamy, what a cheerfulness this sweetheart brings every day, he is so funny and every day he has a moment when he goes loose for a while, then he runs through the house, meows very hard, does enormous funny things that make you laugh loudly and he gives you a big smile of happiness on the face. My wonderful bautiful dreamboy, my shining happy love!
After the dead of Pablo by a cardiac arrest we took on 01-12-2017 Dreamy to one of the best heart specialists for a heart screening. We were relieved and happy that this test was good for now and that his heart have no signs of problems, but we will certainly repeat the screening in the future as a check.
Family:
Dreamy his father is also the father of Countdown Pablo. Siddhi of Love, Mr. Bojangles, Magic Thunder & Samuray Merlin and the grandfather of Flash Gordon, Sweet Vinzent, Sweet Vancouver, D'Amore Federico, Enchanting Angel, Midnight Jewel, Precious Firebird & Magical Surprise
Dreamy his mother is also the mother of Countdown Pablo and the grandmother of Flash Gordon, Sweet Vinzent, Sweet Vancouver & Magical Surprise
Dreamy his grandfather is also the grandfather of Mr. Bojangles, Midnight Jewel & Precious Firebird and the great-grandfather of Laguna Surprise & Special One Sinatra

Dreamy his grandmother is the mother of Siddhi of Love & Simple Obsession and the grandmother of Precious Firebird