Magic Thunder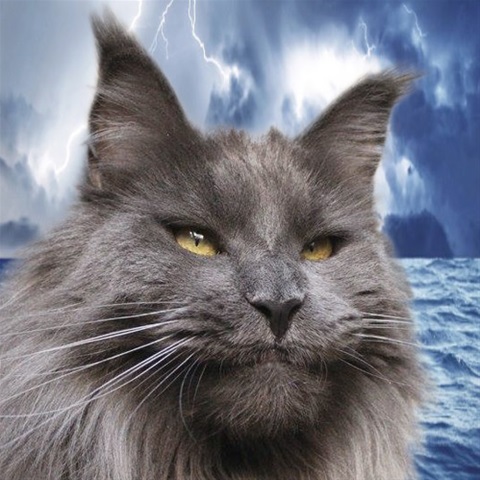 Big-Hannibals Magic Thunder
Born 08-11-2014 in Germany
Mother: Stormy Highlanders Black Magic
Father: Timaracoon Di Caprio
Blue Smoke
Pedigree Magic Thunder
"The sun is up, the sky is blue, it's beautiful and so are you. You are my blue crayon, the one I never have enough of, the one I use to color my sky"
Magic Thunder is definitely my Blue Smoke dream come true, not only because of his color, but this boy radiates perfection in everything, his looks but especially his character. When I was in Germany to pick up Mr. Bojangles and Siddhi of Love I saw Thunder and immediately I fell in love! What an impression this sweetheart made on me, he was already reserved for a breeder but I told the breeder that if she ever has a boy like Thunder again or she will think on me and send me a message. I never expected that a miracle would happen and that we less than a week later received a message from the breeder or we were interested in buying Thunder. I didn't have to think about this for a second, YES of course I will! And so it happened that two weeks later we went back to Germany and brought my dream boy to Casa di Coontastic.
I always call Thunder "Frunt or Thundefrunt", it is his nickname which means "friend" in a loving way. When I mention his name he lets out his sweet meow and immediately comes running happily with his tail high in the air. He is not a cat who come on my lap but he is very affectionate and love it to cuddle with me. When I tickle his back he gives love bits in my hand and when I look into his beautiful round eyes I melt with love. He radiates love and calmness, is friends with all sweethearts, never makes problems and is always cheerful. He love it to take care of the others by wash them or sleeping together and when we have a kitten in the house he is very happy, he is the best uncle a kitten could wish for.
Every morning when I wake up he is with me and he makes his happy sound as if he want to say "good morning, we have a beautiful new day waiting for us so get out of bed"! He is my big friend who always follows me and never misses what I do, he always happily runs after me with his tail in the air and he will never pass up the opportunity for a hug.
Thunder is a magic ball in terms of color, when he was young he had a wonderful hig smoke maine but this changes per season, one season he has a nice full smoke maine and the other season the smoke is less visible.
My Thundefrunt, how I love this sweetheart so much and I am still happy every day that magic brought him into our live.
Family:
Thunder his father is also the father of Siddhi of Love, Mr. Bojangles, Chapman Mr. Dreamy, Countdown Pablo & Samuray Merlin and the grandfather of Flash Gordon, Sweet Vinzent, Sweet Vancouver, D'Amore Federico, Enchanting Angel, Midnight Jewel, Precious Firebird & Magical Surprise
Thunder his mother is the grandmother of Mr. Bojangles, Midnight Jewel & Precious Firebird and the great-grandmother of Laguna Surprise, Special One Sinatra & Flash Gordon