Flash Gordon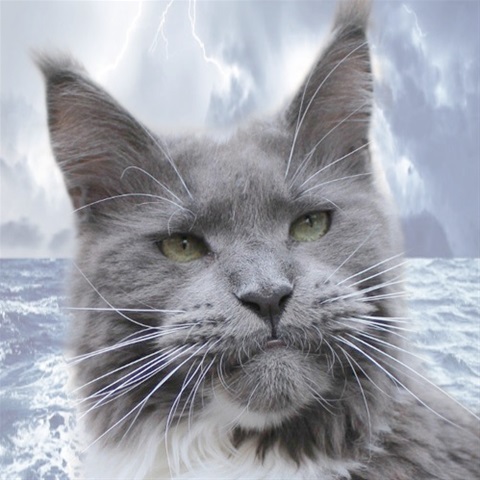 Big-Hannibals Flash Gordon
Born 08-04-2016 in Germany
Mother: Big-Hannibal Marble
Father: Big-Hannibal El Dorinyo
Blue Smoke White
Pedigree Flash Gordon
"Life goes by in a flash, make time for the moments you'll want to remember and who warms your heart forever"
My sweety Gordon! I fell immediately in love with this sweetheart by the first pictures, he gave me a very special feeling. He born 1 day after his half brother Hero. Gordon is a son from the full sister of our Mr. Bojangles what makes him for me double special. Gordon look a like a lot as his father, as kitten it was not direct visible but now he is older you can see it very good. Gordon is a amazing boy, my blue white dream with a wonderful sweet temper. He is friends with all the other cats and dogs, as he see me he is purring and rolling on his back so that I can hugging his belly. He has beautiful looks with a big strong muzzle. His coat is not very long, but a positive thing about that is that he have never tangles in his coat. What Gordon also have from his father is that he can be a little macho to our Wolf, but that can also come because Wolf is also a macho. Gordon his father was also the matcho man when we saw him in the male group by the breeder. What is a wonderful thing is that Gordon is always very sweet to kittens, he makes never troubles and give them direct a warm and loveley welcome home. Also to O'Harry and Alinka who where a little older when they come to us he was also direct very sweet. As I look to Gordon I see not a real macho, I see a sweety with a soft heart who is sometimes a little uncertain so as his half sister Izzie has exactly the same. He do it perfect in our group and life and I love his sweet cuddles, as he is on my lap he always knead happy with his paws and he enjoys it immensely. As I call his name "Noortje" so as we call him, then he comes happy walking to me and as he looks to me with his beautiful green eyes I am melting. He is always very easy, I can do everything with him, he find it all okay and that let see his real love and trust.
Because he had some lines the same as our Pablo and Sinatra who both passed away by a cardiac arrest we took him to one of the best heart specialists for a heart screening. We were relieved and happy that this test was good for now and that his heart have no signs of problems, but we will certainly repeat the screening in the future as a check.
Family:
Gordon his father is also the father of Purr'Fect Hero, Sweet Vinzent, Sweet Vancouver & Simple Obsession
Gordon his mother is the sister of Mr. Bojangles and the half sister of Midnight Jewel

Gordon his grandmother is the mother of Enchanting Angel & D'Amore Federico and the grandmother of Laguna Surprise, Samuray Merlin & Special One Sinatra
Gordon his grandfather is the the father of Siddhi of Love, Mr. Bojangles, Magic Thunder, Chapman Mr. Dreamy, Countdown Pablo & Samuray Merlin and the grandfather of Sweet Vinzent, Sweet Vancouver, D'Amore Federico, Enchanting Angel, Midnight Jewel, Precious Firebird & Magical Surprise

Gordon his great-grandfather is the grandfather of Samuray Merlin the great-grandfather of Siddhi of Love and the great-great-grandfather of Chapman Mr. Dreamy, Countdown Pablo & Precious Firebird
Gordon his other great-grandfather is the grandfather of Mr. Bojangles, Chapman Mr. Dreamy, Countdown Pablo & Precious Firebird and he is the great-grandfather of Laguna Surprise, Special One Sinatra, Magical Surprise, Sweet Vinzent & Sweet Vancouver
Gordon his great-grandmother is the mother of Magic Thunder the grandmother of Precious Firebird and the great-grandmother of Laguna Surprise & Special One Sinatra