Simple Obsession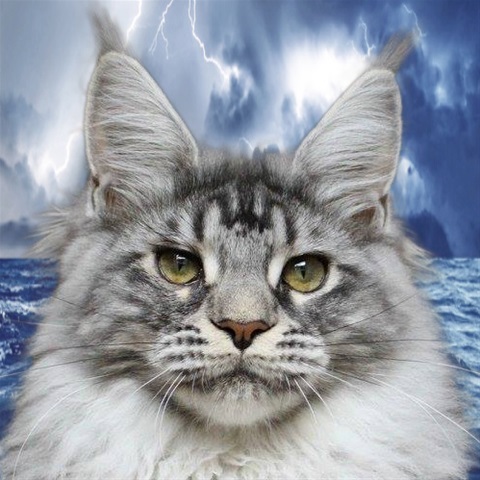 Big-Hannibals Simple Obsession
Born 12-04-2016 in Germany
Mother: Kiwanos Darara Buna
Father: Big-Hannibal El Dorinyo
Black Silver Classic Tabby
Pedigree Simple Obsession
Simple Obsession but we call her Izzie. What a wonderful sweet girl, from the first moment that I saw her on pictures I was in love. A black silver was a dream but we choose the boys with other colors. Every week we fall more and more in love and we could not resist her. She stole our hearts and since the day that she is home we are so happy for that! She is the half sister of our Siddhi of Love (same mother but other father). She is a beautiful girl with a very sweet, hugging and soft temper. She is not our biggest girl but she have a strong body with a wonderful soft coat that never tangles. When some of our sweethearts are in puberty, they like it to tease Izzie because then she growls loud at them and that works for them naturally like a squeaky toy haha! She does not understand that if she did not growl then the pleasure for the boys would soon be over. But luckily she knows how to stand her ground during puberty from some sweethearts and I think she is happy that they not stay a whole life in the puberty phase. Together with Izzie we always quickly learn our puberty sweetheart through a positive way that bullying is not the intention. So loud as she can growl so soft is her meow. Izzie is a sweet girl but she have for sure a own will with a strong personality but that makes her also to a funny girl. Once the others have gained her trust, they will have a best friend for life, then she will wash them, love them and learn them a lot of beautiful things. The sweet cuddly character she have from her mother because her big brother have the same sweet and soft character and the own will what she have that is for sure from her father because he was the macho boy when we saw him in the male group of the cattery. Despite her strong personality, she is just very sweet and maybe even a little insecure sometimes. I can do everything with her and I have full faith and she has a place as Queen in our group where most of them respect her. Above all, she is a big teddy bear who when she hears her name comes direct happy with her tail high in the air, she always claim her hugs and spot on my lap or next to me in the bed.
The first day that Izzie was home we saw direct that she had a tear eye and by her other eye on her third eyelid we saw a different extra piece that grew towards her pupil. We went to our vet with her and after research it turned out that her eye canal was not good, our veterinarian would investigate this later during her sterilization and then the extra piece at her third eyelid would also be removed so that it would not be a problem for her to see if it might come for her pupil.
On 20-01-2017 I suddenly noticed that the nipples of Izzie were all developing into bumps. I was shocked by this! We visit direct our vet and there we here about hormones what can sometimes give a negative effect (Dolly Parton Syndroom - Fibroadenomateuze Hyperplasie). This results in a benign but annoying swelling of the milk glands and we decided to let her sterilized immediately. During the sterilisation her eyelid is repair and the vet has done a research on the eye canal of her other eye. It turns out that she has in that eye not a eye canal and that's why she always had a tear eye. Now this is clear we know that she always hold a wet eye but we clean it every day (we do that from the first day that she was with us) and she can live with it without pain. I do notice that her tear eye now that she is older is no longer so extremely wet as when she was younger, she always has a tear in her eye but we must not clean it now every day, we do this a few times a week when we see that it is necessary.
Family:
Izzie her mother is the also the mother of Siddhi of Love, the grandmother of Chapman Mr. Dreamy, Countdown Pablo, Sweet Vinzent, Sweet Vancouver & Precious Firebird and the great-grandmother of Magical Surprise
Izzie her father is also the father of Purr'Fect Hero, Flash Gordon, Sweet Vinzent & Sweet Vancouver

Izzie her grandmother is the mother of D'Amore Federico & Enchanting Angel and the grandmother Samuray Merlin
Izzie her great-grandfather is the grandfather of Samuray Merlin